Helping People Get Better Organized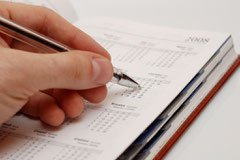 WHAT IS THIS?
Our firm specializes in coaching individuals on how to become more effective in managing their stuff – setting goals and objectives, supervising employees, using time well, processing emails, managing commitments, etc. In our fast-paced world, people are increasingly feeling overwhelmed as more and more stuff in their universe needs to be handled. The meteoric growth in electronic communications has only exacerbated this dilemma. Most individuals do not have a consistent, workable approach to staying on top of things and our firm can help with that.
WHAT IS OUR FIRM'S FOCUS?
We work mainly with senior and mid-level executives of for-profit and nonprofit organizations. Our president was the CEO of a large, national trade association for over 25 years. He also has experience serving in and working with many organizations. He truly understands the dynamics of working in organizations and getting things done. Our president also has substantial experience in helping individuals get organized so they can operate more productively and effectively, thus giving them more control over their lives.
HOW DOES OUR APPROACH WORK?
We meet one-on-one with individuals to help them develop sound time management and organizational habits. We particularly utilize the outstanding principles presented in Stephen Covey's First Things First and David Allen's Getting Things Done.
WHAT ARE THE BENEFITS OF THIS APROACH?
Individual coaching is a practical way to work with an individual on issues/challenges most important to him. The beauty is that she decides what area(s) on which she wants to focus. In an individual's work life, this is clearly a win-win for the employee and the organization. It also could apply equally to one's personal life.
HOW MUCH DOES IT COST?
Our firm usually bills on an hourly pay-as-you-go basis so there is no long-term financial commitment. A client is free to discontinue the relationship if ever it is deemed not effective or no longer needed. For corporate clients, we normally bill at a rate of $200-$225/hour. For non-profits and/or charitable organizations, we normally discount that to $150-175 per hour.