Strategic Planning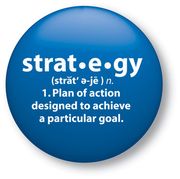 WHY DOES AN ORGANIZATION NEED STRATEGIC PLANNING?
 Organizations that use strategic planning effectively accomplish much more than those that do not.  If you don't know where you want to lead your organization – and cannot articulate it – you likely will not end up there.  It's as simple as that.  And, some organizations that think they have done strategic planning really haven't because the process they used did not produce a focused plan with clear, measurable objectives that ensure accountability.
HOW DOES YOUR PROCESS WORK?
 We will lead an organization through a full-fledged strategic planning process resulting in a comprehensive, measurable strategic plan that is ready to be implemented.  The process consists of the following elements:
Meet with the appropriate volunteers and staff of the organization to determine their hopes and aspirations for the process, as well as learning about the organization's culture and operating style.  This would include helping them design an appropriate planning committee.
Help to develop some survey tools to assist the organization in gathering data from the membership prior to the planning sessions.
Conduct a planning session(s) and lead the committee through a process of developing a mission statement, vision statement, goals and objectives (the latter two are the "whats" to be accomplished).
Work with a small group of the planning committee to "scrub" the first draft and  "tighten it up".
Work with the staff and key volunteers to develop strategies and action steps necessary to ensure achievement of the goals and objectives (the "hows").
Assist the organization in effectively monitoring the plan and periodically updating it.
WHAT ARE THE BENEFITS TO THE ORGANIZATION OF THIS PROCESS?
It can be completed relatively quickly.  It delivers a clear, understandable product that is measurable and, thus, ensures accountability.  It creates a dynamic plan and builds in a mechanism for periodic updating to keep it current.  It fully involves key staff and trains them to "manage the plan".
HOW LONG DOES THE PROCESS TAKE?
The process typically takes as little as one and one-half days up to a maximum of three days.  The three main time commitments are:
An initial and primary planning session that takes up to one day;
A one to two-hour session to "scrub" the plan (this occurs shortly after the planning session); and
A final session to review and adopt the plan and its goals/objectives and strategies which usually takes one to one-and-a-half hours (this usually occurs several weeks after the initial session, often at a board meeting).  
Thus, the entire process can easily be completed in two months (assuming the organization's availability).
HOW MUCH DOES IT COST?
Organizations usually invest between $4,000 and $7,500 depending on the scope of the work and the desired level of our firm's participation.